Disclosure: This post contains affiliate links that earn me a small commission, at no additional cost to you. I only recommend products I personally use and love, or think my readers will find useful.
This year has been wild, as many parents have had to make difficult decisions regarding this upcoming school year. If you have found yourself with your preschooler now at home, or have a child coming into the preschool age and are ready to start implementing "school" into your routine, I hope you find this post helpful and encouraging.
I started preschool homeschool with Amelie a couple of years ago when she turned two. I began piecing a curriculum for her using activities and resources from various websites and blogs, but after a few months, I found it hard to keep up. Mostly because I wanted the learning to be structured, so coming up with activities and lessons took a lot of time planning. I also found myself spending too much money and time on materials and needing to print off too many worksheets for our lessons. I couldn't keep up with the prep.
I decided that I was done trying to make my own curriculum; I searched for a good homeschool option for preschool. I looked at various programs, but they were overly complicated and expensive. I wanted a plan that was easy to follow, little to no prep and materials, and learning that was structured. When I found Busy Toddler, I was relieved. We have been using for almost a year now, we have loved it so much that we have continued through summer.
Our homeschool takes about 30-60 minutes a day; sometimes, it is all at once or spread throughout the day. My kids play for 90% of the time, and if they are happy and playing, I don't typically interrupt. Usually, around late morning the girls seem to take a break from playing on their own, so it has naturally become our routine to do school around then.
PLAYING PRESCHOOL CURRICULUM 30-45 minutes
You can either get Playing Preschool 1 and 2 separately or combined. Year 2 comes with "school readiness guide." Each year is broken into 19 units of homeschool preschool – sequenced, planned, hands-on activities in a 190 simple daily lesson plans surrounding reading, math, science, and art. The scripted and mapped out lessons make it easy to pick up and start without much prep. The most prep I do for each unit is getting books from the library (which in times like these, most libraries allow online requests with pick-up and drop-offs.) Minimal materials required, and many of them you will find around your home. The program comes with a start-up guide that will tell you everything you need to know. Play-based and relaxed, this program is designed around experience and exposure. It builds background knowledge so that when your child is ready to enter school they are confident in their abilities. The lessons are fun and engaging, and I enjoy teaching the material, which is important because when I display excitement while teaching, my kids are usually excited to learn. I cannot say enough good things about this program. Check it out here! Below is a little preview of Unit Layout and Start Up Guide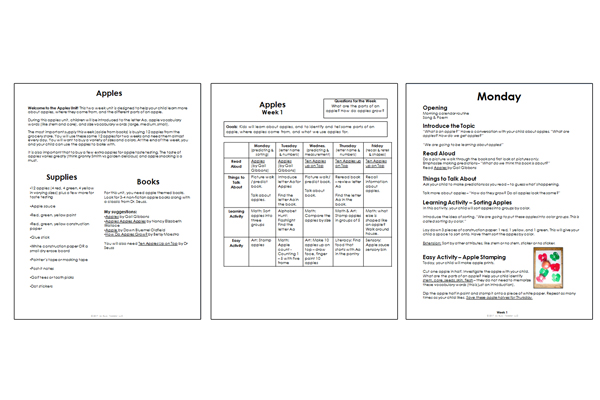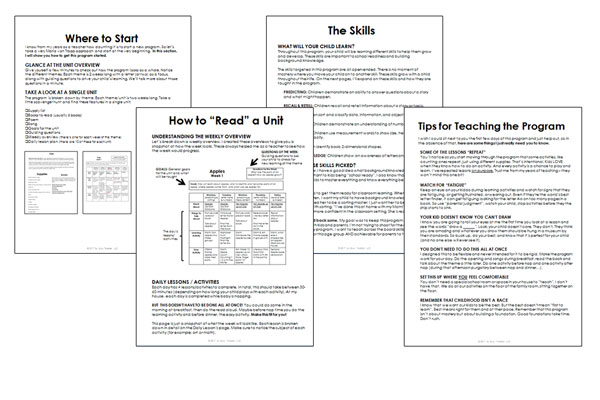 READING – 10 minutes
In addition to Playing Preschool, I do reading lessons with Amelie. Last year I did 4 weeks to read, and they enjoyed it. It's very interactive with songs, stories, and cards. They are not entirely reading, but it was beneficial with letter recognition and sound/letter correspondence. I would recommend it if you are looking to get your child interested in reading. I was looking for a straightforward approach to do with Amelie, so I've recently started Teach Your Child to Read in 100 Easy Lessons. I've heard nothing but great things about this approach. From the research, its one of the top recommendations for teaching reading. So far, we are enjoying it, and it takes us about 10 minutes a day to do a lesson. Other than that and I read to the kids throughout the day and at bedtime. They have easy access to their books, so they enjoy reading on their own.
RELIGION 10-15 minutes
The Catholic Bible for Children
For Religion, each week, we will focus on a bible story and read it a couple of times and discuss it. I use this Children's Bible and often times I will include a craft or video.
Catholic Prayers
Also, we work on one at a time prayer and focus on on it for a couple of weeks; we are working through traditional Catholic prayers that are not too long, so they can at least recognize when the prayers are being said in Mass or during prayer time. This book is geared towards older children, but is simple enough and includes all traditional prayers, and will come in handy as the kids grow older.
Little Acts of Grace
Short and sweet reads, this book is a simple way of introducing Catholic customs to children.
Indescribable
This devotional for kids does an incredible job of displaying the wonders of God's creation and the beauty of science. I will usually sift through and see if any of the devotions match our theme for playing preschool or biblical stories. Either way, it's a fantastic book to have on hand and read whenever!
OTHER
Spanish – 10 minutes
My mother-in-law is very gracious and spends a few minutes every day doing a little Spanish lesson with Amelie. Amelie loves to see her Grandma and to have that time with her. We also love the Endless Spanish app with originator.
KiwiCo
We recently started KiwiCo, and so far, the kids love it. KiwiCo are STEM activities and crafts, made for all ages. Each month we have four activities are sent to us, all revolving around a theme. I usually will bring these out to break up the weekend, and its always a fun activity to do with dad. This is a great resource to supplement into your child's learning, especially if they are doing distance learning this school year. KiwiCo offers engaging hands-on activities that can serve a nice break from the screen. Use the code below to get 30% off!
WHAT'S IN OUR SCHOOL CLOSET?
Again, I wanted lessons that required minimal materials. You don't have to have much to get started. I started my collection of school materials a few years ago(some leftover from teaching), and slowly have collected materials from the dollar tree or target dollar section over the years. DO NOT feel like you have to go and spend $500 at lakeshore or target. I think I paid around $30-$40 on materials getting started for the Playing Preschool a year ago, and since then, I haven't spent anything on school.
Pompoms
Paint
Brushes
Crayons
Colored pencils
Lined paper
Thick pencils
Cotton balls
Dice
Painters tape
Playdough
Alphabet +Number Cards
Butcher Paper
Blocks
Mini whiteboard +  markers
Dot stickers
Post-it notes
Kinetic sand
Beans (sensory bin)
Rice (sensory bin)
Press and Stay Sensory Blocks 
EXTRAS
Workbooks filled with necessary letter/ number/shape tracing and coloring activities. I'm not a huge fan of worksheets for everyday work, but it is good to practice using a pencil and tracing every once and a while. I will bust these out for the girls when they want to "pretend school" as they call it, or Penny wants to work on something while I do reading lessons with Amelie.
CUT AND PASTE WORKBOOKÂ  (my mother-in-law keeps this at her house and the girls love to do these cutting exercises with her, great for developing fine motor skills)
Other than that, my kid's play, read, draw, and play some more. If the idea of a curriculum is overwhelming to you, the best thing you can do for your child is to give them the time to play and use their imagination, read, and then read more! You don't have to schedule learning or wholly map it out; the best kind of education can happen in the home doing everyday tasks and activities. If you are looking for a little more of a plan, I hope you found this helpful.
Have fun, and best of luck!
For tips on starting preschool at home check out my post here!